Ref:
Date:
Location:
Photographer:
Ref:
Date:
Location:
Photographer:
Hommage to Treserras
Fashion Photography
The concept for this fashion image was to photographically recreate a painted portrait from a well know artist, with consideration given to the subject's pose, expression, lighting, set etc and generally to convey the overall essence of the original image, however....... also incorporating a hint of modernity with a slight twist.
Originally we looked at very traditional works by the Grand Masters but wanted something a little unconventional but with form, grace & beauty. The Fench Artist and Sculptor Louis Treserras had works with just the qualities we required, there were several beautiful fine art paintings we could have chosen but in the end agreed on a beautiful piece named Effeuillage. www.treserras-berit.com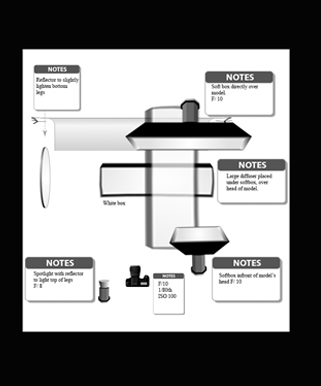 As the trend for hotpants and lace was prevelent it was decided to replace the area on the model swathed in fabric with matalic silver hotpants whilst adding a lace vest top to complete the look plus the model's head covering was replaced with a bang on trend sequined beeny hat. However, all other aspects of the photograph were replicated as near as possible to the original painting.
After constructing the set it was a challenge to reproduce the lighting as the original lighting would have artistic licence from the artist as there may have been more than one light source. However with the use of large defusers, various soft boxes and reflectors and allot of patients from our lovely model Alora Adie and the other members of the team including Harinder Kaur and Ian Martin we managed to eventually produce an image with which we were happy in regard to the lighting.
Actually taking the image was only half the job as we still had to reproduce the paint stroke effects...... of course this effect could have been produced in photoshop but we wanted to be as true to the original image as possible, so the colour washes were achieved by actually using various colour washes on stretched water colour paper in order to replicate a painted effect. The washes were then photographed and overlaid in photoshop on to the original image to create the final picture.
Louis Treserras himself when contacted kindly gave approval for the final image to be used for which we are very grateful and in appreciation named the image 'Hommage to Treserras'