Ref:
Date:
Location:
Photographer:
Ref:
Date:
Location:
Photographer:
Forest Siren Fantasy Fashion Photography
Forest Siren
Fantasy Fashion .....She Dared to Dream
With each new concept come new challenges which stretch and hopefully develop our creative muscle. The Forest Siren concept derived from a desire to create more narrative lead characters and also to create outfits and props totally from scratch so producing totally unique work.
Fantasy Fashion....Forest Siren
Fantasy Fashion.....Guardian of Dreams
The initial idea for the Forest Siren came as previously had happened from location scouting for a totally different shoot however this amazing location which was surrounded by water was not accessible but the concept and name of the shoot came to me immediately and so the Forest Siren was born.
Fantasy ......Custodian of Hope
The narrative ... An enigmatic ethereal haunting beauty at the entrance to a beautiful fantasy world, she beckons us in to escape the challenges of life! Her dress made from twigs gathered from the forest floor together with discarded rags and forgotten jewels, her crown made from twigs and flowers gathered from the fantasy forest.
Fantasy Fashion ....Gatekeeper to Enchantment
The location was incredibly important as it was essential to portray a magical other worldly land depicting pure fantasy. We were incredibly grateful to Graham Mitcheson and all his team from Morpeth Council in Northumberland for consenting to and facilitating the shoot at beautiful Bolam Lake.
Fantasy Fashion .....And so she waits
Fantasy Fashion ..... With strength she Shields
We were extremely lucky to shoot at all as our beautiful model Becky Mendoza was hospitalised in India only a week prior to the shoot, thankfully she made a complete recovery and was able to reschedule for two weeks later.
Fantasy Fashion...Never forget to Dream.
Fantasy Fashion ....Protector of Wishes
Behind the scenes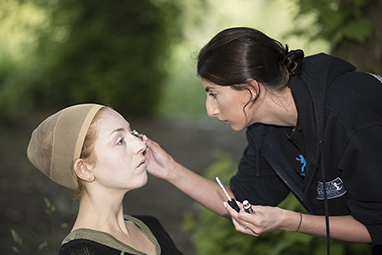 As I always say no matter how much development and prior planning I could not achieve this type of shoot alone so having a brilliant team on the day is a prerequisite. A huge thank you to our beautiful Model Becky Mendoza who was such a pro and wore a prickly twig dress for hours without complaint.
Becky Instagram
Our fabulous Mua Lauren Storey who went way beyond just creating a beautiful look but also turned her hand to just about everything on the shoot. Lovely Lesley Huges who produced all the bts images with some hilarious results.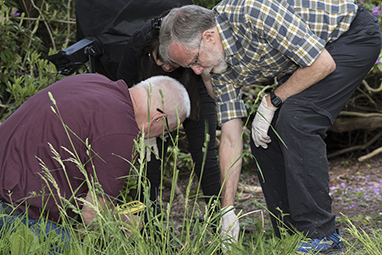 Also our amazing assistants including David Cottrell and Morgan Stephenson who not only produced great work but made us laugh at their expense. Plus unexpected help from Sally Mendoza and also Steve the ranger from Bolam Lake who were invaluable.
It was a great day very productive but with lots of laughs......
Including trying not to get assistants in the shot !
On previous recces to the location the water levels were high so the water was up to the bank however because of lack of rain the water levels we much lower on shoot day but we did the shoot regardless, no reflections but I don't think it detracted from the final images.
It was a late finish but everyone said they had a good day, thank you Guys you are all stars.
The making of the costume
I have been asked a number of times how I create and develop the dress and headdress so a quick run through how it was achieved.
The only drawback of producing from scratch was the lack of budget so I decided to embrace the challenge and reverse the thought process seeing the lack of little or no budget as a positive so thinking outside the box, recycling everyday objects and creating something completely different.
As always I began the process by sketching down my ideas.... I wanted the skirt part of the dress to be part of her natural environment so embarked on making a hoop type skirt from the trees and bushes in my garden held together with strips on an old bed sheet.
It was a case of trial and error to begin with to make the wooden hoops made from branches but it soon progressed and a technique was developed. Old conifer bushes were stripped and formed the covering over the twig hoops.
The upper part of the dress was fashioned by transforming an old muslin curtain which was distressed with an old school technique of coffee & tea then dried. It was then coloured using cheap watercolour paints in the desired colour pallet and torn into strips.
Distressed flowers were also made using the same technique before embellishment was added in the form of old jewellery I was given or rhinestones & beads from previous concepts. The butterflies were very cheaply purchased then distressed to complete the final look.
The torn muslin strips constituted the bulk of the dress making with a few additions of odd pieces of fabric and old lace.
The headdress again made from what I had to hand including moss raked from the lawn which was then coloured with the same water colours as the dress and left to dry in the sunshine. The base and main structure of the crown was made from a twisted hazel bush from the garden.
Small delicate flowers were fashioned from a cheap pack of pot pouri again coloured in the same pallet as the dress then distress with gold acrylic paint and adorned with beads and bits of old jewellery.
Fantasy Headdress